Tawny haired beauty, Elena Koshka, looking like fresh and young Lindsay Lohan, is sneaking back into her house at 7 am with her stepbro. She's wearing a sleeveless orange printed pantsuite but with the legs cropped off so short its practically a mini skirt. With her skimpy getup, its obvious she's got no tits to speak off, but she's got legs that go on for days and paired with her tight, lithe body, she is oh so fuckable. Yum.
Anyways, their irate dad was up waiting for them and sits them down in the living room. He gives them hell for being late. He's not buying into any of their lame excuses and grounds them for a month with no Internet privileges to boot. Shocked, Elena cries out, 'What are we going to do for fun?' We're soon to find out.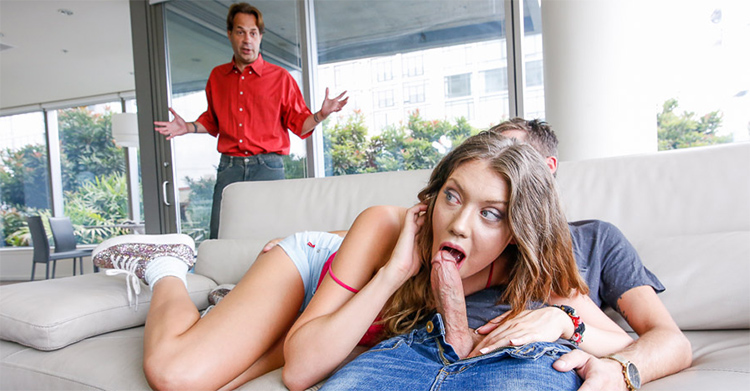 Two weeks later, the two siblings are back in the living room, bored as fuck. They start to enumerate all the things they've been missing out on the pass few days and Elena reveals that she misses her boyfriend, especially his penis. That's how it all began. He begins teasing her, playfully pinching her here and there. He accidentally grabs her boobs and she retaliates by poking his dick. One thing leads to another, and despite being step siblings, the next thing we see is Elena on her knees by the couch, giving him a blowjob. I guess, when one is horny, everything gets brushed to the side in order to release that pent up sexual energy.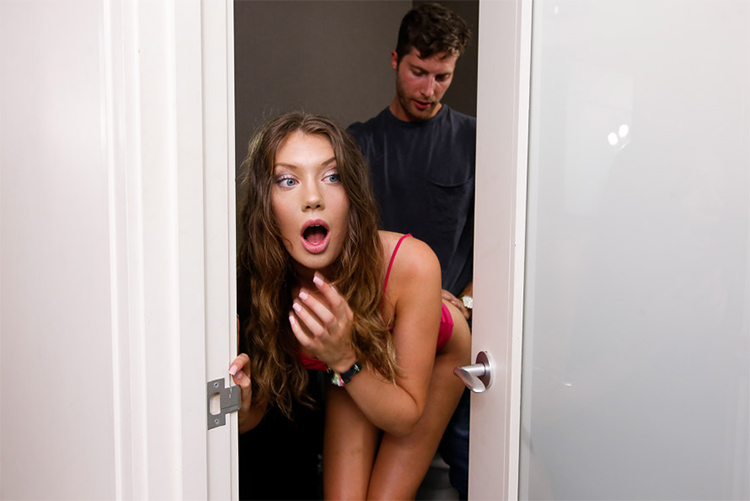 They make so much noise, with her sucking noise and his groans of pleasure, that their step dad hears them and goes to the living room to see what's going on. Fortunately, they hear him coming and Elena rushes to the powder room with her stepbro not far behind with his pants to his knees, frog walking with a raging hard on. In the powder room, she bends over and pokes her head out of the door to keep a watch out for her stepdad while her stepbro fucks her from behind doggy style. They're really going at it when they hear their step dad calling out their names. They hurry out of the bathroom and rush to her bedroom to continue their fuck session. These two kids are going to cum no matter what, that's for sure.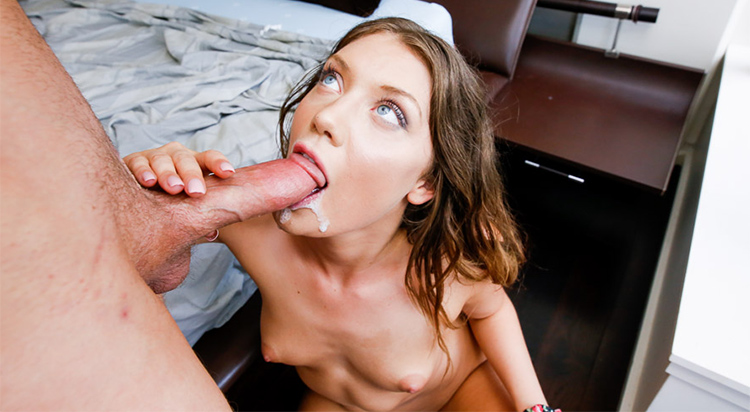 In her bedroom, she bends over and removes her shorts after which he continues to fuck her from behind just like in the bathroom. The scene switches to find him on his back on the bed while she rides him on top. We get an awesome view of her bung hole while in this position. We then see them, clothes completely off this time, with her on her back tightly grasping both ankles in order for him to get a clear shot of her hot pussy with his stiff dick. The scene ends with Elena back on her knees while he pumps his jizz into her open mouth.
These two now know what to do the next time they're grounded. It's good that they've got two weeks more to go. Guess what they'll be doing tomorrow.