Break out the kleenex and the lube, all you lesbo loving Dudes! This clip is all about this hot but desparate chic trying to get into this sorority filled with with stuck up bitches used to getting their way. Anyways, they know this pledge comes from money, so they'll let her in eventually, but they're going to have some 'fun' with her first. What type of 'fun'? Lesbo-based fun, that's for sure.
First, they sit her down and blindfold her while they humiliate her regarding her bad hair and tacky clothes. Then to disorient her, one of the sisters french kisses her passionately while the others continue their verbal abuse. She doesn't protest one bit which tells you just home much she want to get into this sorority.
The next thing we see is her naked in the couch while she is finger fucked by one of the sisters as the others grasp her throat, all the while raining insults at her. You can tell that the sisters are getting turned on by the hazing they're all doing to this poor bitch, which makes me wonder if they got the same treatment when they pledged to this sorority. If that was the case, I would have loved to have been a fly on the wall while they went through their hazing. Despite my hardon while I watched them wail on this pledge, I felt sorry for her and wanted to see her tormentors get the same treatment.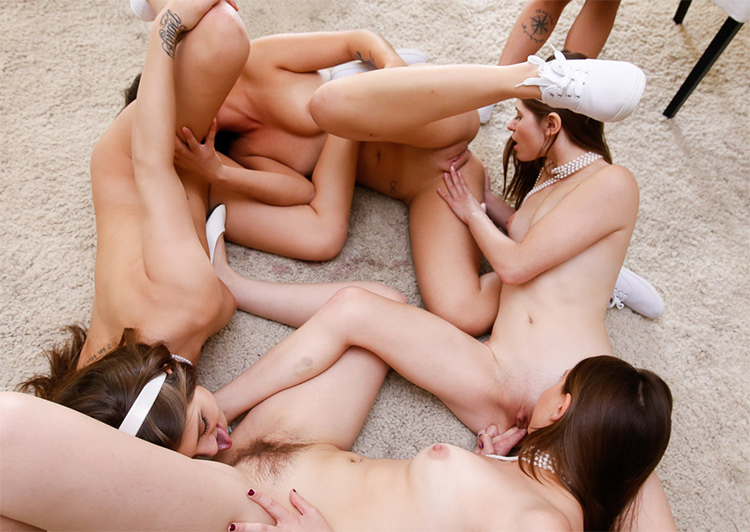 Anyway, the next thing we see is all the sisters naked on the floor. They're configured in a circle with their face planted on the cunt above them, looking like a sexual version of synchronized swimming. I'm not really sure if these bitches are diehard lesbos, but whatever the case may be, they sure know their way around a pussy.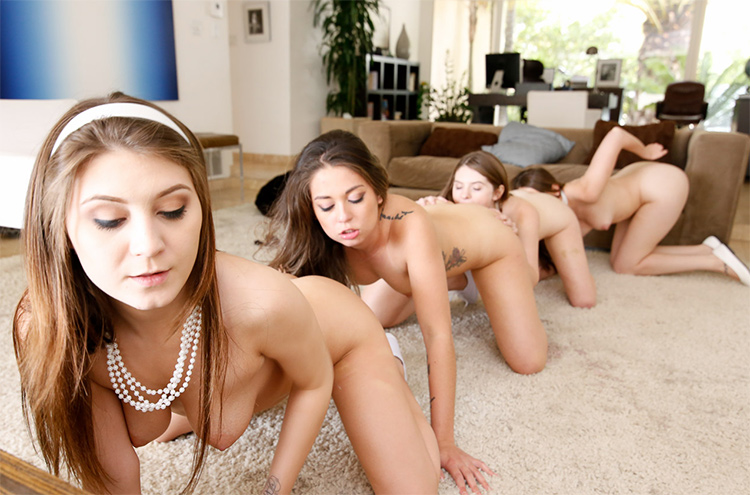 Prior to the circle pattern above, the bitches first arranged themselves in a train pattern with each girl eating out the pussy of the girl in front of them. The only one who didn't have a cunt to eat is the pledge who is in front of the train. I guess the sisters felt that pussy eating is a privilege she had to earn. Oh well, at least the pledge got in at the end.