Stacey Leanne was chilling out on the couch texting some of her BFFs when her tatted stepbro comes limping in and sits next to her wearing nothing but a beach towel loosely draped around his waste. His soft dick was clearly on display, but its nothing she hasn't seen before so she paid it no mind.
So the stepbro pulled a muscle in his crotch area while working out in the gym and he wanted Stacey to take a look at it which she agreed to do. She then straddles him and starts to massage the area hoping that that would alleviate the pain. Since his towel was in the way, she pulls it aside giving her a full frontal view of his tool. He protested a bit saying that she was brushing against it. To this, she replied that it was unavoidable and innocently kept at it. And then it wasn't so innocent anymore.
The next thing we see is slutty Stacey giving her stepbro a full on blow job. When popped in her mouth (and he came in buckets), it was her turn to protest. To this, he replied it was unavoidable. Tit for tat, eh?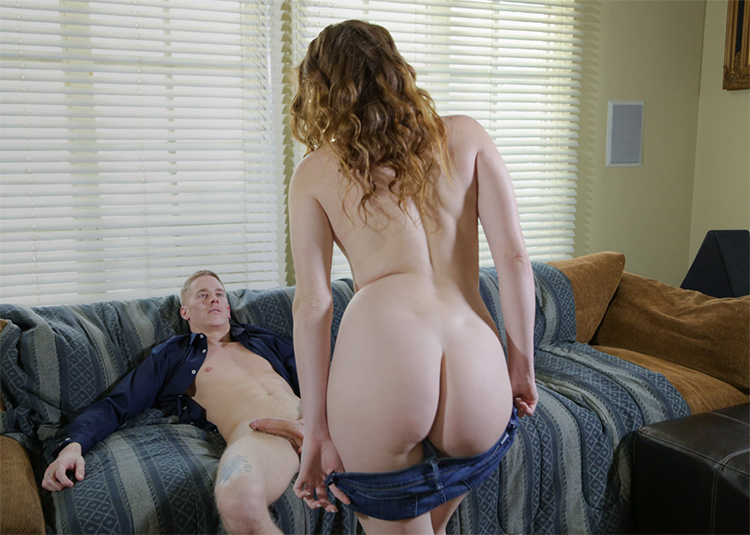 In this scene, now its the stepbro who is in the couch texting his buddies. He just came home from work and needed to chill with his dress shirt completely unbuttoned. In comes Stacey wearing a lacey blue sports bra and blue denim cutoffs. She is in a frisky and started twerking in front of him.
She is really super horny and said as much. He told her that their dad was on his way but she brushed him off and started rubbing his crotch. She then unbuckles his belt and the hardcore action begins.
I tell you, these two are like rabbits when it comes to fucking each other. They just can't get enough of each other's hot bodies and the fact that they're stepsiblings doesn't bother them one fucking bit.