You know how some chics start acting like moms way before they turn 25? That's exactly how Amber Chase comes across in this hot clip. In it, she's playing the very young wife of a guy with two sons who are just out of their teens. She's bitching and complaining about how difficult and unruly they are as if she wasn't just out of their teens herself. That being said, she is fucking hot with a capital F. We first see her wearing a short pleated mini skirt paired with a tight pink button down that is opaque enough to show that she is wearing a black bra encasing her shapely avocados. Sporting a flip hairstyle with bangs, she looks like a hot to trot mama indeed.
Anyways, she gets to her house and finds to her exasperation that her stepsons have taken the house key that she's hidden in the window sill. So she manages to jimmy open the front window but just when she thinks she's made it inside, her shirt gets caught in a nail. Not wanting to rip the shirt, she's effectively stuck. Enter one of the stepsons who gets an eyeful of Amber's shapely ass. In her best mom fashion, she asks for his help which he is more than willing to give.
He starts by grabbing each of her ass cheeks and then pushes on it as if to get her through the window. That didn't work of course as he expected so he says he'll have to pull up her skirt which he proceeds to do. That's when we see her bubble but and her barely there black thong. As she's not able to see what he's doing, she got the shock of her life when she feels his tongue darting back and forth along the crack of her ass.
In walks in the other stepson and she appeals for his help while the other stepson is chowing down on her bung hole. But all the other one cares about is that she didn't buy his cereal so there's no chance in hell that she'll get any help from him. So tries to guilt him by saying she thought he was better than that and that she thought his brother was the trouble maker, not him.
So he changes his mind and decides to give her something after all. Thing is, what he gave her wasn't what she was asking for. The pervert opens his fly and decides to give her his semi hard dick which she instinctively takes to her mouth.
What we have now is this: a sexy young wannabe mom stuck in a first floor window with her ass being tongued by a stepson and her mouth being fucked by the other stepson.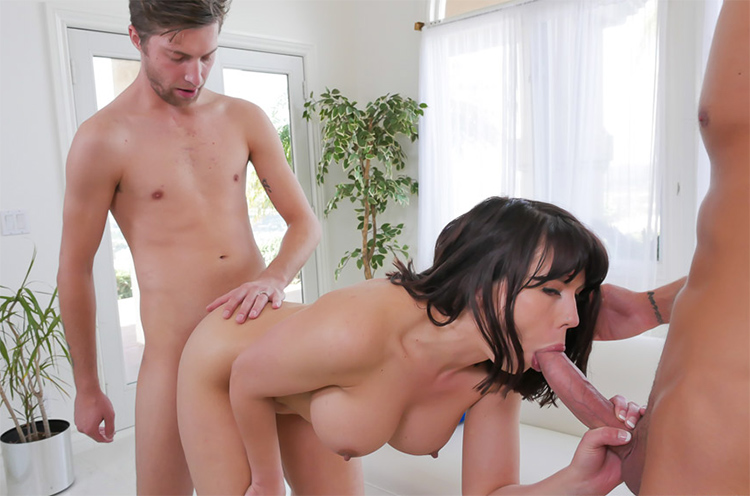 From there, it goes pretty much down hill or should I say, more hard core as Amber gets railed good and hard by the same two stepsons she was just complaining about. Hey, no family is perfect so you, Amber dear, might as well make the best of it and let those stepsons of yours fuck your brains out. Its not like they're going to get out of your hair in the foreseeable future. So shut up and put out.