When Latinas are hot, they are smokin' and that is certainly the case with this chic, Kat Arina. We first catch a glimpse of her in her living room, wearing a super tight, stonewashed denim jeans, fashionably ripped in all the right places. (I think they're called distressed these days.) Paired with a black halter top showing off her bare midriff, we get a pretty good view of her body which is like a young and lithe race horse. With her olive complexion and her full lips, I'm getting a hardon just thinking of my dick in her tight pussy.
Anyways, she's rummaging through her parent's nightstand and gets caught by her stepbro. Apparently, she's looking for a condom to use with her boyfriend later on that day. Bingo! With this revelation, he finally found an excuse to have some fun with her. He convinces her to practice placing a condom on his dick as well as improve her bj skills by blowing him (with the condom on, of course). Poor Kat. She's not exactly the sharpest knife in the block so she agrees to do it. And do it she does, with all the enthusiasm her youth and tight mouth can muster. When he cums in the condom, he even was able to convince her to allow him to empty it in her mouth, saying that's the thing to do these days. You kind of feel sorry for her, seeing her with all that jizz in her mouth, but it sure was fucking hot.
The next day, Kat is in the living room wearing a tight, white, sleeveless blouse with a spandex mini skirt. She gets a glass dildo from the side table, sits on the couch, and starts masturbating, not knowing that her perv of a stepbro is watching her from across the room. When she's done and leaves the room, he hides the dildo thinking that she'll be desperate to find a replacement, horny bitch that she is. I guess this dude knows his stepsister well because that's exactly what she started doing and him having a penis and all, she decides that he'll be the replacement. She starts by giving him a blowjob, without a condom on this time, and just as he was about to pop, she tells him to get out, saying that she's changed her mind. Good for her! This bitch can give as good as she gets.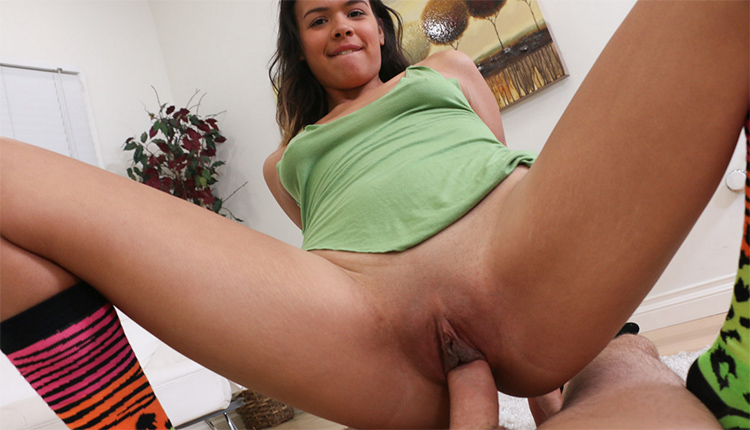 On their third "date" Kat Arina let her stepbrother fuck her tight pussy
Later in the day, Kat knock on her stepbro's door. She's all depressed because her boyfriend stood her up. Her stepbro tells her to cheer up and that there's more interesting things to do with her time, like fuck him there and then, seeing that their parents are away. So that's what she did and she did feel better, that's for sure. At least, her pussy felt better as did his dick.