Her eyes are teen Anastasia Rose's best feature. They're piercing blue, almost like a cat's and her long, straight black hair, parted to the side, emphasized them all the more. She looks like that chic in American Beauty, except that Anastasia's body is hotter. It's really ripe for fucking which is good cuz it's what were here to see, right?

So it's the same old story. Anastasia got caught not exactly shoplifting but more of fraud (more on this later) and she was brought to the store's back office for an interview. With her there is the security officer who caught her in the act and like all the dumb bitches before her, she admitted to nothing. This is what she got caught doing: she's been collecting discarded receipts from the trash bins around the store after which she'd go inside the store, find those items listed in the receipts, and then take them to the refund counter using the discarded receipts as proof of purchase. Ha! This bitch is not as dumb as I thought. Like a lot of people, my friends and I used to shoplift now and then for fun when we were kids, and we never thought of that. Anyways, Anastasia finally got caught and now, she has to pay the piper.

In the clip, we see her realizing that things are not looking good for her. She finally admits to it and when the security officer showed her hard evidence of her crime, she got all desparate and stripped her clothes off, offering her hot body in exchange for her freedom. At first, he refused, telling her to put her clothes back on, but as she played with her pussy and egged him by her pleading voice, he got really turned on and relented.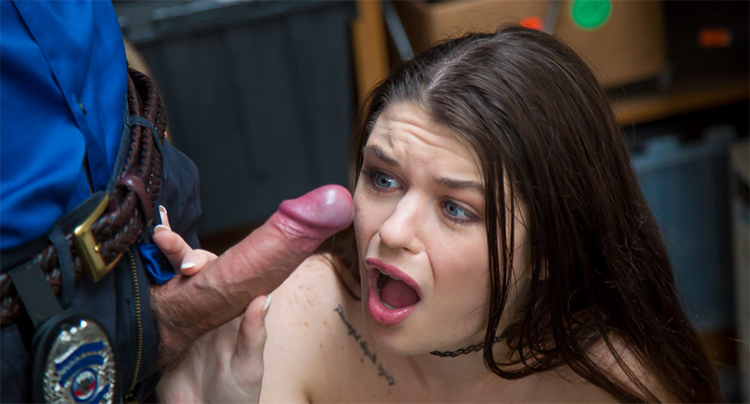 The action begins with the requisite blow job. For those who are into seeing some gagging action, you'll be disappointed on that front because this dude's junk is average, length and girth wise. Nevertheless, he does her mouth like it was about to go out of style so it was still pretty hot to watch.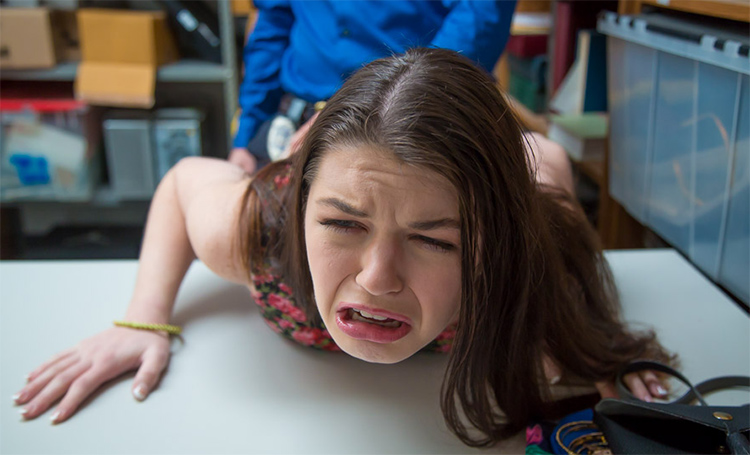 Then he bends her over the table and fucks her doggy style. I don't know if its because she's not into sex or she's really tight, but the expression on her face during her initial penetration indicates that she's not enjoying herself as much as he is. That changes as she gets used to his hard thrusts at which point she says, 'This is much better than calling the authorities.' Not that it mattered to him whether she liked it or not. He was going to fuck her that way he wanted irregardless.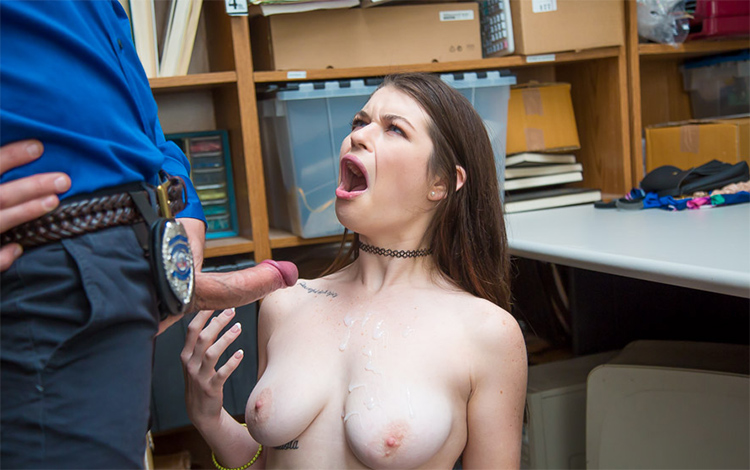 One thing that Anastasia cannot get used to is cum anywhere near her body. So as punishment for her criminal activities, he made sure to spew his jizz smack dab on her tits. As shown by the pic above, the look on her as she realized what he just did was priceless! He can't wait until Ms. Itchy Fingers steals again so that he can do a repeat performance.