Brunette teen Shane Blair is a part time dogsitter. In this clip, we see her visiting her new client Richie at his home. He has to go out of town for a few days and he's leaving his beloved dog in Shane's supposedly capable hands. When he gets back, he noticed that he doesn't hear the usual ecstatic barking as he walks up to his front door. Instead, he enters his house to find Shane sitting forlornly at the corner with very bad news for him. Apparently, his dog ran off during his walk and is now lost. Richie is fucking furious! That dog means the world to him and now, all he sees is red. The thing about Richie is that when he gets mad, he gets super horny so now, he's going to teach Shane a lesson she's not likely to forget.
First, he gets her to her knees so that she can deep throat him. For added measure, he gets her to suck on his balls as well. He then has her on all fours and with his dick burried deep in her mouth, he walks backwards and forces her to follow on all fours like the dog she lost. He then pulls her by the hair and leads her to the bedroom where he fucks her doggy style. Appropriate, no?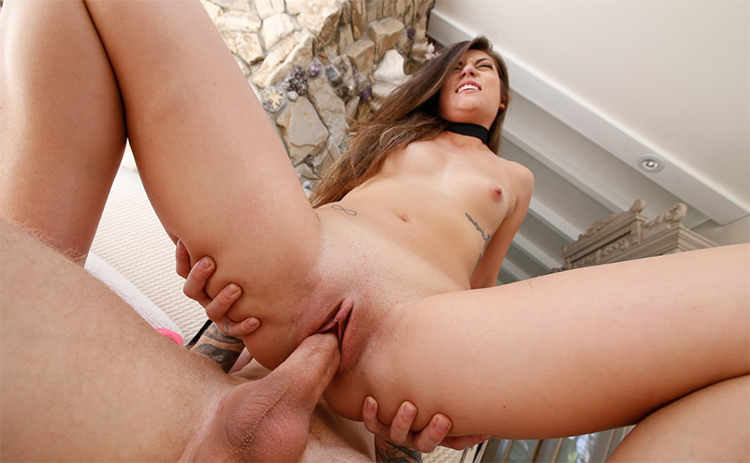 We next see Shane on top of Richie but he is still clearly setting the pace. He also put a black leash around her neck so there is no doubt who is controlling who. Nevertheless, Shane is enjoying the hard fucking she is getting, judging from the oohs and aahs emanating from her mouth as she gets banged.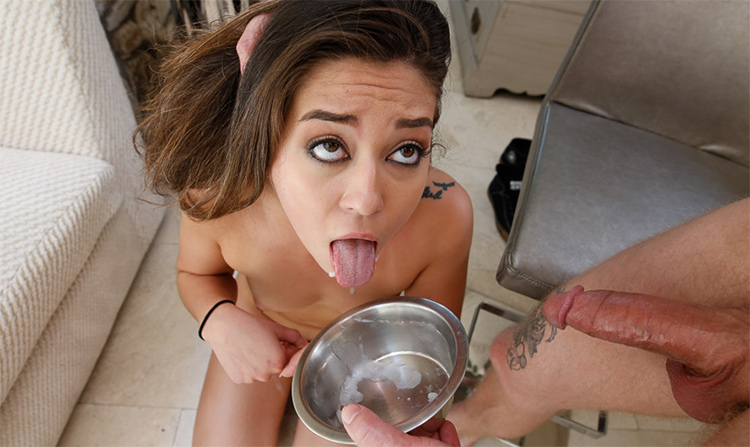 When he is about to pop, he pulls out and milks his long schlong into his missing dog's water dish. He then gets her to lick every drop of his spunk from the dish to remind her just how worthless piece of shit she is when it comes to taking care of dogs. Worthless dogsitter or not, one thing for sure is that Shane Blair is a fucking good lay.