Bleached blonde teen Elizabeth Jolie was having her equally hot but somewhat shorter best friend Jenna Reid over for some BFF time. Jenna's dad was coming over too to watch the game with Elizabeth's father as the two dudes have also been friends for quite some time.
So after the two bitches got into their pink onesies that Elizabeth's dad got them just for the occasion, they got into bed and started talking about whatever hot teen girls talk about. When Jenna got cold, Elizabeth got the idea that her dad should come over and cuddle with her to warm her up. WTF? Not really thinking it was the most appropriate suggestion to make, he reluctantly agreed to do it nonetheless and got into bed with them.
After a while, Elizabeth started getting nightmares and Jenna yelled for her dad saying that he too should cuddle Elizabeth to calm her down. Now this was getting weird! With a lot of reservations, he got into bed with them to see if he could help. But when both girls started grinding their bubble buts against the crotches of the dude spooning them, the two dads looked at each other, trying to assess just how far they can take advantage of the situation with the other's daughter. When the sluts ripped off the velcroed bottom of their onesies and earnestly started to hump against them, it was pretty clear that there was no going back. So with a shrug and a thumbs up from both dudes, they went to town with the two horny sluts. The next thing we see is both dudes spoon fucking each other's daughter. At first, the girls were giggling from the sheer ridiculousness of the situation, but soon their moans were replaced by pure groans of pleasure as the dudes fucked them like the sluts that they are.
For those of you who are into hard sex, there's a scene here that's really worth waiting for. It involves Jenna Reid being fucked on her back with her onesie still on. When she asked to be fucked hard, Elizabeth's dad lets loose and grabs her throat with both hands and goes at her like a jackhammer and then mashes her face with his left hand until she twists her face away. As they say, 'Be careful what you wish for…'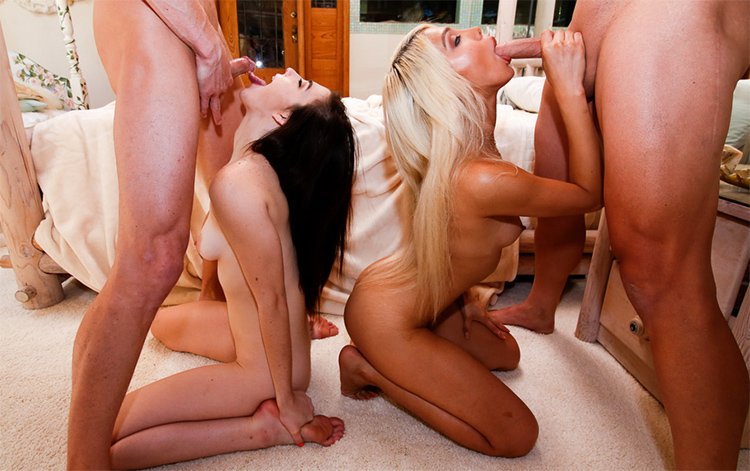 Shown above, this clip ends with both girls on the floor with both dads standing above them, getting their dicks milked by each other's kid. When both dudes popped, the girls swallowed their spunk like the obedient daughters that they are. Super fucking hot!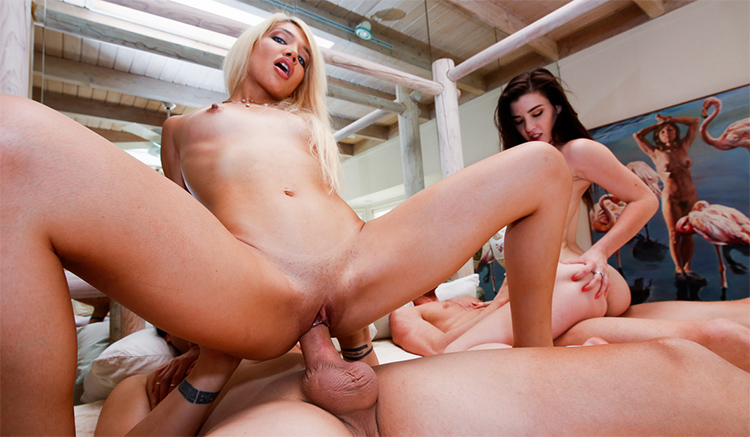 The picture above shows one of the numerous positions the dads put each other's kid through. Let me tell you, these bitches performed like pros despite their age. They are not to be missed, that's for sure.